BaseSpace Correlation Engine 2.0 Released
BaseSpace Correlation Engine 2.0 Released
BaseSpaceTM Correlation Engine (BSCE) is a powerful tool used by many customers to correlate their genomic data with the world's data. It allows genomic scientists to get instant, data-driven answers for the correlations between genes, phenotypes, diseases, and drugs.
We are excited to announce the release of BSCE 2.0, a milestone release that we have been working on for months behind-the-scenes. BSCE 2.0 will provide a range of improvements, including support for new genetic features, support for more concepts, improved pathway coverage, and more robust scoring and correlations. It will also move BSCE onto a modern Amazon Web Services (AWS), architecture with all the performance, security, and scalability that AWS offers.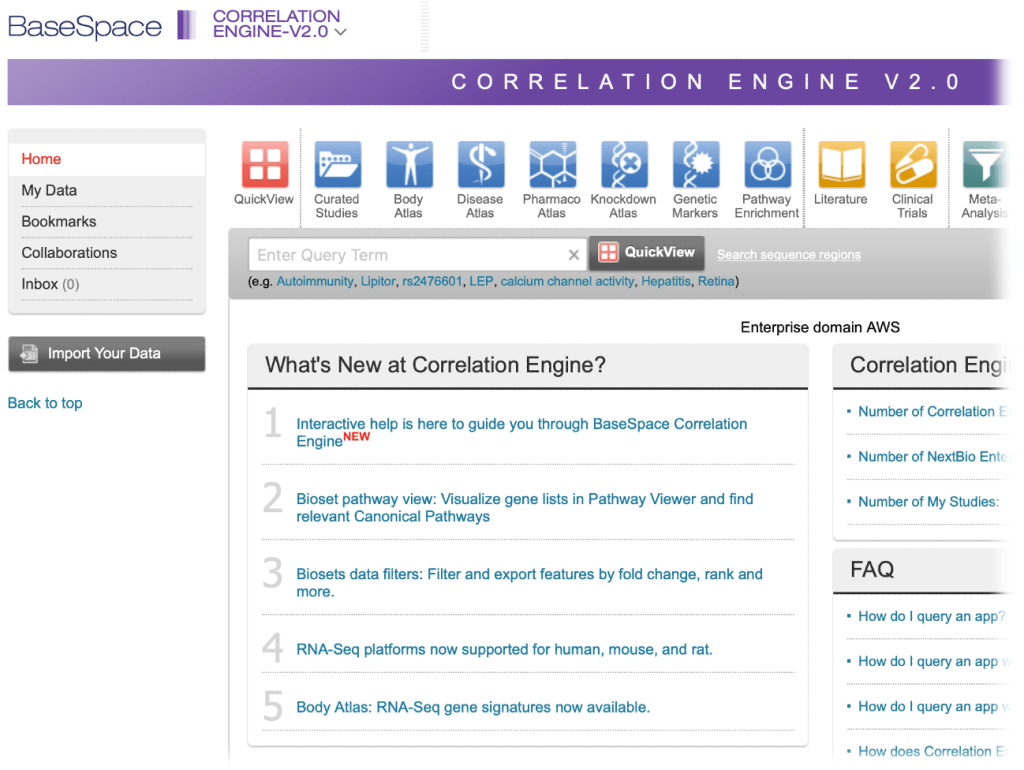 Some of the exciting new features include:
1) Updates to the list of known genes, allowing users to find new correlations with previously unavailable genes. Some older gene features have also been appropriately expired, based on newer annotations.
2) Substantially increased coverage of long non-coding RNAs, allowing for new correlations to be found with these RNA species.
3) Increased support for the most popular microarray platforms (18 additional platforms added).
4) Increased coverage of gene features for custom experiments by ~50%, providing improved performance for non-standard platforms.
5) Improved cross-species ortholog mapping, for improved correlation between animal model systems.
6) Improved pathway and gene category enrichment analysis:
Updated the mapping of Gene Ontology (GO) terms to gene groups
3X increase in the mapping of mSigDB gene groups
3X increase in the mapping of InterPro gene groups
We expect all these new features to provide new correlations, enable new hypothesis generation, allow discovery of new biomarkers, and much more. We hope customers enjoy exploring all of the new capabilities in BSCE 2.0!
For Research Use Only. Not for use in diagnostic procedures.