TruSight Software Suite v.2.0 released
TruSight Software Suite v.2.0 released
We are excited to announce the availability of TruSight™ Software Suite (TSS) v.2.0, with key updates to Illumina's analysis and interpretation solution for WGS/WES in rare genetic disease.
TSS is a comprehensive software solution to analyze and interpret rare disease variants, and it now supports exomes (WES) as well as genomes (WGS). This new release also incorporates a seamless integration with sequencers and BaseSpace SequenceHub, as well as an integrated AI-based variant prioritization tool. These updates improve the TSS workflow and reduce interpretation time, enabling users to discover causative variants associated with rare disease.
Exome support: TSS now supports WES as well as WGS analysis, interpretation and reporting. Integrating the new DRAGEN v.3.7, TSS introduces cutting-edge, genome-grade tools for exome analysis. A single analytic platform that addresses exome needs for today, TSS positions customers for growth tomorrow.
Sequencer integration: Many labs struggle to keep pace with integrating new genomics technology, instruments, and methodologies. TruSight Software Suite simplifies the process, integrating seamlessly with the NovaSeq™ 6000, NextSeq™ 2000, or other systems via BaseSpace Sequence Hub for automating WGS and WES analysis.
AI-based variant prioritization: TruSight Software Suite incorporates a genomics artificial intelligence (AI) engine, powered by Emedgene, to rank variants and highlight the most-likely candidates. The engine generates a knowledge-graph showing supporting evidence for the variant prioritization, like disease– gene relationships, generated by the application of natural language processing (NLP) to various data sources (Figure).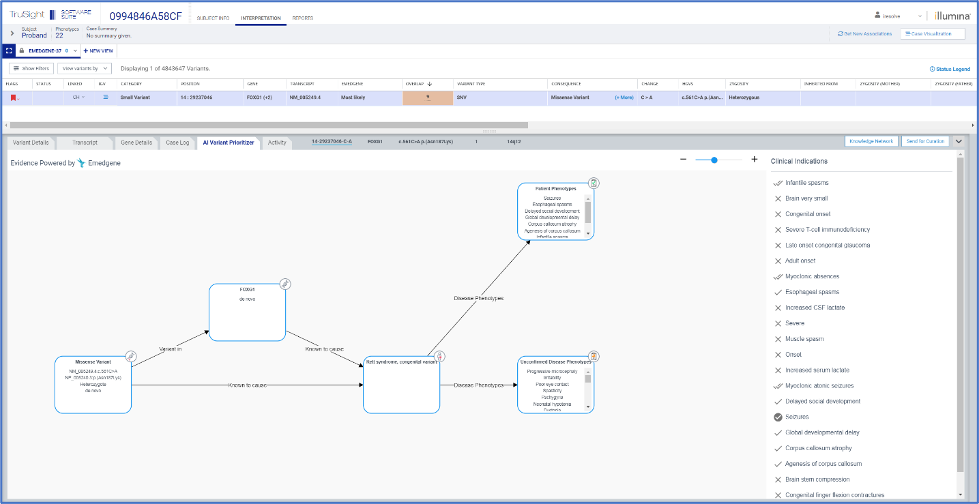 TruSight Software Suite is part of the new whole genome sequencing workflow. TSS and Illumina DNA PCR-Free Prep, coupled with the proven speed and flexibility of the NovaSeq 6000, empower laboratories to use a family of products to deliver scalable and efficient whole genome sequencing results.
To schedule a demo of the TruSight Software, please contact your Illumina team.