Illumina Connected Analytics: Productionize Your Informatics Workflows at Scale
Illumina Connected Analytics

Product updates

02/22/2022
Illumina Connected Analytics: Productionize Your Informatics Workflows at Scale
With the increasing volume of genomics data generated and complex analysis and interpretation workflows, labs strive to improve the scalability and reliability of their bioinformatics systems. Meeting the challenges of building and deploying new informatics workflows, scaling up internal infrastructure, and maintaining a secure data management environment requires a flexible and comprehensive platform.
To address this need, we are excited to introduce Illumina Connected Analytics (ICA), a secure genomics data platform to operationalize informatics and drive scientific insights. ICA enables bioinformaticians to:
Easily import, build, and edit workflows with tools like CWL (Common Workflow Language) and Nextflow
Organize data in a secure workspace and share it globally in a compliant manner
Interpret data in a flexible computing environment that includes JupyterLab Notebooks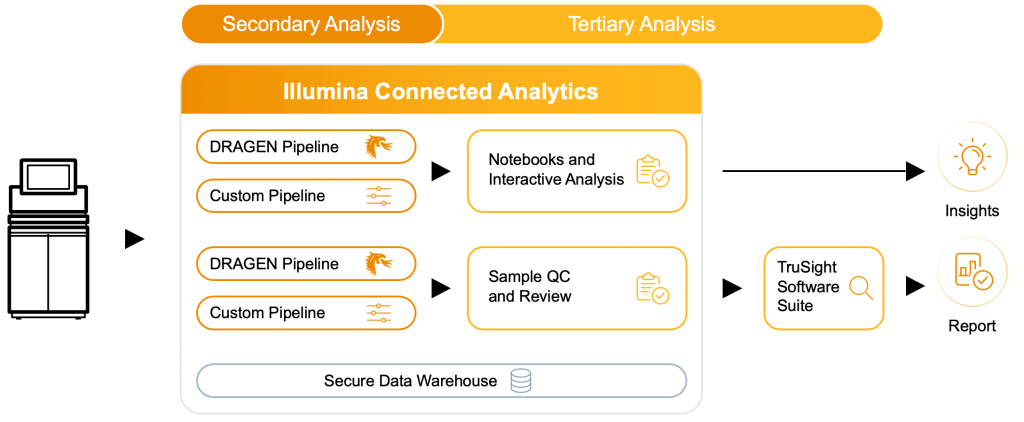 ICA is being leveraged globally for a broad use of applications, from building fit-for-purpose analytical pipelines for processing single repeatable workflows, to managing and executing multiple analysis workflows in parallel. Verici Dx, a developer of advanced clinical diagnostics for organ transplant, is processing large datasets on ICA, allowing for custom AI-enabled RNA signature testing to be available at a more robust level than has been previously possible. With streamlined querying of large data sets, ICA supports Verici Dx's leading-edge technology and provides a framework for future data science discovery.1
Powerful out-of-the-box tools and pipelines for processing data are also integrated into ICA, including access to the DRAGEN suite of bioinformatics pipelines, providing highly accurate, comprehensive and ultra-efficient secondary analysis. You can leverage DRAGEN to build, version and deploy workflows as pre-packaged pipelines or as tools to incorporate into your custom pipelines without the need for a separate DRAGEN license. The University of Melbourne Center for Cancer Research (UMCCR) has reduced their time to QC report by three-fold, maximizing their analysis throughput by running DRAGEN on ICA.2
Protecting the privacy of your genomic data is a foundational principle of our business. Extensive security, privacy and compliance measures have been implemented in the platform infrastructure built on AWS, to ensure sensitive omics data is safeguarded at every stage and to empower collaboration on a global scale with ease and peace of mind. At The Hospital for Sick Children (SickKids), ICA is enabling researchers to safely and securely move petabyte-sized genomic datasets generated from sequencers into a collaborative data sharing environment, accessible to approved researchers at Canada's select leading research facilities and hospitals.3 Illumina Connected Analytics also works in accordance with laws and regulations, including GDPR (General Data Protection Regulation) and HIPAA (Health Insurance Portability and Accountability Act), and has obtained ISO 27001 and ISO 13485 certifications.
To learn more about Illumina Connected Analytics, visit our website.
If you are interested in getting started with Illumina Connected Analytics, contact your Illumina team.
For Research Use Only. Not for use in diagnostic procedures.