At-a-Glance view, security, IPP – BaseSpace Clarity LIMS 5.4 is here!
Clarity LIMS™

Product updates

04/02/2021
At-a-Glance view, security, IPP – BaseSpace Clarity LIMS 5.4 is here!
We are pleased to announce the release of version 5.4 of BaseSpace Clarity LIMS to help genomics labs track samples and manage workflows for an optimized and efficient lab.
This new release prioritizes security with improvements made to the management of passwords. The new at-a-glance view provides an understanding of any steps performed on submitted samples. This visual representation assists with troubleshooting, audit compliance and general locating of data associated with a sample.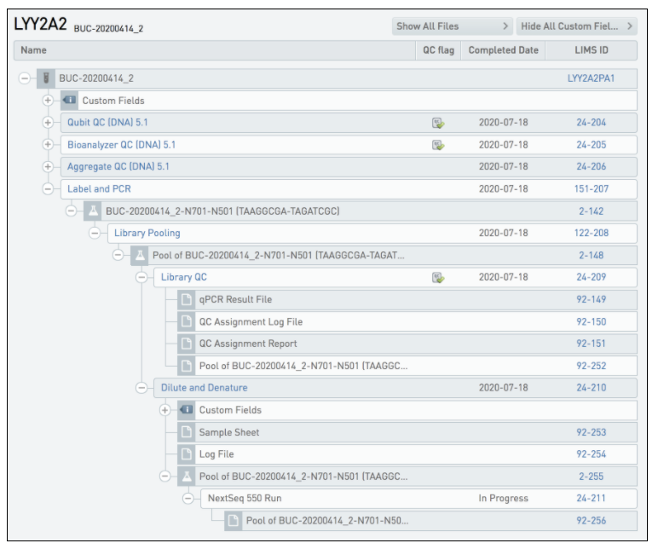 Finally, updates to the instrument packages were made and new workflows were added to the Illumina Preset Protocols (IPP) to support Infinium and SARS-CoV-2 related applications.
A comprehensive list of updates can be found in the following release notes.
NGS Packages Release Notes
These added features build upon the trusted LIMS that enables labs to run samples more quickly, track them effortlessly, and achieve or maintain regulatory compliance efficiently. BaseSpace Clarity LIMS is easy to use, implement, and configure.
Highlights include:
Sample traceability and real-time status monitoring
Preset protocols
Instrument integration
Automation
Regulatory support
Configurability
Extensibility
To support customers that need to maintain stringent security requirements for CLIA, CAP labs, and others, BaseSpace Clarity LIMS was built with security and privacy in mind. Several information security management systems are in place at our facilities to provide an efficient and secure workplace for employees and information assets.
If you would like to learn more about getting BaseSpace Clarity LIMS for your team, contact your Illumina team member today.